Bed On The Move Collection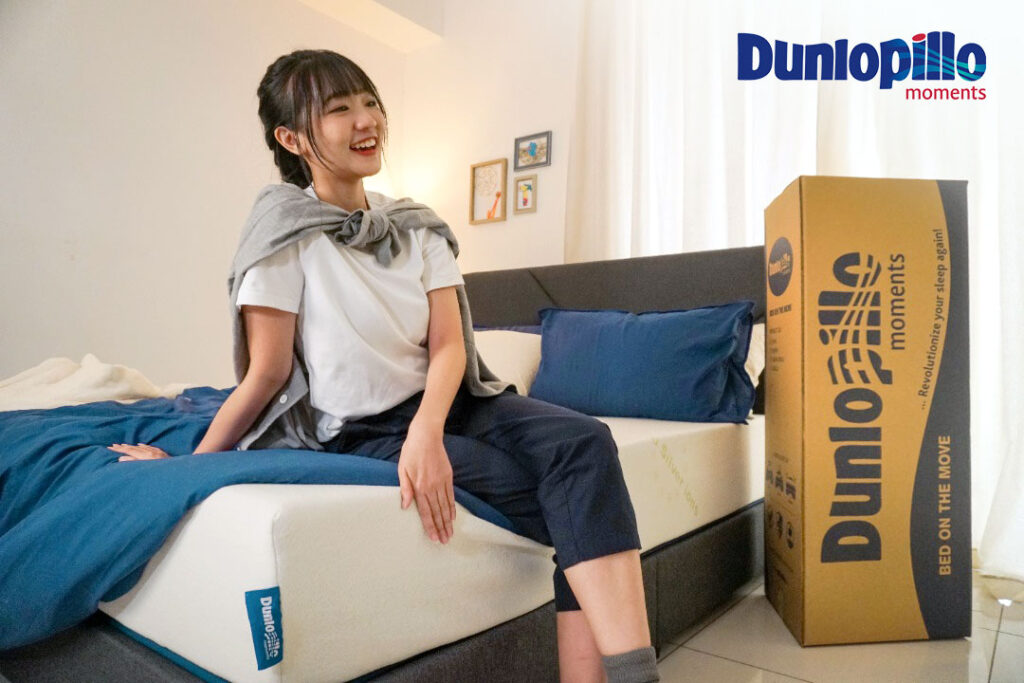 Dunlopillo bed on the move mattresses are covered by a 10 years pro-rated product warranty, from the date of delivery and collection. This warranty is not transferable and covers only the original purchaser who continues to be the owner of the product.
You may register the warranty here.
This Warranty covers:
Defect of a structural or manufacturing nature, including physical flaws in mattress causing the foam materials to split or crack.
Deteriorating resulting in a visible indentation or sag of 4cm (1.5inch) or larger when no weight is applied onto the mattress.

This Warranty does not cover:
Individual comfort preferences such a firmness, texture and feel.
Physical abuse and improper use such as a prolonged sitting on the mattress' s edges, bending, folding, standing or jumping on the mattress resulting in damage to its structure and / or cover material, including but not limited to cuts, tears, stains, soiling.
Deformity or damage to the mattress caused by improper washing, drying or high temperature treatment.
Abnormal or non-domestic use of the mattress.
Odour (some of the mattress can have a natural odour).
Minor manufacturing discrepancies or cosmetic flaws.
Mattress dimensions within the accepted tolerance of +/- 3.8 cm on the quoted size.
Usage outside Malaysia.
The mattress zip and cover.
Mattresses haven't unboxed or unwrapped within 14 days from the received date.
How to claim the Warranty:
Drop us an email to customer.service@dunlopilloworld.com with your Order Number, Receipt Copy, Images of defects, Reason of the warranty claim. 
We will review your Warranty claim request with the Production Team for approval or rejection of the claim request (case by case basis).
Upon the warranty approval, and during the warranty period, transportation costs for collection and delivering the replacement product will be borne by the customer (for mattresses RM250 within Klang Valley, RM400 in Peninsular Malaysia).
Transportation payment must be completed within 60 days from warranty request email. Failing to complete the payment within the given timeframe may result in the closing of your warranty case automatically.
We will arrange the transportation team to collect the defective mattress within a timely manner subjected to the delivery location.
In case an identical model or material is not available for a replacement, Dunlopillo reserves the right to substitute a comparable model or material, and any price difference shall be borne by the customer. Repaired or replaced mattresses or mattress covers are subject to the same Warranty as the original mattress, such that its warranty term begins on the delivery / collection date of the original mattress that was purchased.
---
Terms & Conditions
Copyrights: Images of people, products and places on this website are either property of Dunlopillo or our licensor. Unless otherwise noted, all contents included on this website (graphics, logo, text, design, photographs, video, button icons, digital brochures, images) are the property of Dunlopillo or its licensor, partners or affiliates and are protected by Malaysian and international copyright laws. Any unauthorized use of any content or materials on this site is strictly prohibited and may violate copyright and trademark laws, and/or the laws of privacy, publicity and/or communications regulations and statutes.
License: Any Dunlopillo product, or any part of Dunlopillo, may NOT be reproduced, duplicated, copied, sold, resold, visited or otherwise exploited for any commercial purpose without the express of our written consent. You may not frame or utilize framing techniques to enclose any trademark, logo or other proprietary information (including images, videos, text, page layout or form) of Dunlopillo without express written consent. You may not misuse Dunlopillo services.
Shipping & Delivery: Dunlopillo delivers to entire Malaysia via a third-party delivery service through an arm's length agreement. In purchasing our product, you agree to the delivery conditions as below:
Our promise is we deliver our products in 2- 5 working days in Klang Valley, 4-7 working days outside Klang Valley.
Tentatively there's no delivery service to East Malaysia.
The delivery date can be scheduled based on case-to-case basis with a minimum of 5 days of advance notice. Delivery time is subject to our third-party delivery partner's and cannot be scheduled.
The delivery time frame may be longer during peak sales seasons such as and not limited to Hari Raya, Christmas, Chinese New Year, and more due to the high demand received by our third-party delivery partner. We will try our best to deliver within our normal delivery time frame, however, as the deliveries are made by a third-party delivery partner, we do not take any responsibility for any late delivery cases during high sales seasons.
Any additional costs to Dunlopillo such as and not limited to on-demand delivery or return pick-up requests on a specific time and date will be charged to the customer in case of a return and deducted from the refund amount.
If you are not able to accept delivery, you must advise Dunlopillo before a delivery is attempted.
If the delivery is scheduled and you are not at home during the determined time, we reserve the right to charge RM150 as compensation fee if the mattress will be returned.
Delivery dates and times are entirely subject to availability and scheduling by our third-party delivery partner, and not Dunlopillo. Our third-party delivery partner will usually contact customers after their purchase to arrange the delivery but this is wholly subject to them, and not Dunlopillo.
Product availability: Dunlopillo reserves the right without prior notice to discontinue or change specifications on products and services offered on this website without incurring any obligations. Dunlopillo cannot guarantee product availability for all products at all times. Estimated back-in-stock dates are not guaranteed or confirmed. Customer purchases and orders are fulfilled on a first come, first served, basis.
Warranty: Your new Dunlopillo mattress is covered by a 10-year limited warranty from the day of the delivery to your house. Please refer to our warranty section as well in order to fully understand the applied conditions.
10 Years Pro-rated Product Warranty
Over the period of warranty, repair or replacement of the mattress will be made as per pro-rated value below. The consumer shall bear the difference of the new mattress value and the credit value. The pro-rated value is 1/10th of the invoice price multiplied by the total number of years you have owned the bed:
1 Year : 90%
2 Years : 80%
3 Years : 70%
4 Years : 60%
5 Years : 50%
6 Years : 40%
7 Years : 30%
8 Years : 20%
9 Years : 10%
10 Years : 5%
> 10 Years : 0%
Accuracy of information: Dunlopillo attempts to be accurate as much as possible. However, we do not warrant that product description or any content of services are accurate, complete, reliable, current, updated or error-free. If a product offered by Dunlopillo is not as described, your sole remedy is to return it in an unused condition. Dunlopillo does its best to display product colours shown on its website as accurately as possible. However, because the colours you see depend on your monitor, we cannot guarantee that your monitor's display of any colour is accurate. We will not be held responsible for any discrepancy between the colour displayed and the actual perceived colour for the product itself.
Law: Any dispute or claim relating in any way to your use of Dunlopillo services or to any product sold by Dunlopillo through its website or different channels will be resolved by arbitration, rather than in court. Dunlopillo and you agree that any dispute resolution proceedings will be conducted only on an individual basis and not in a class, consolidated or representative action.
Dunlopillo may change, add, suspend, cancel, remove or otherwise modify the services offered on this website or product at any time without prior notice.