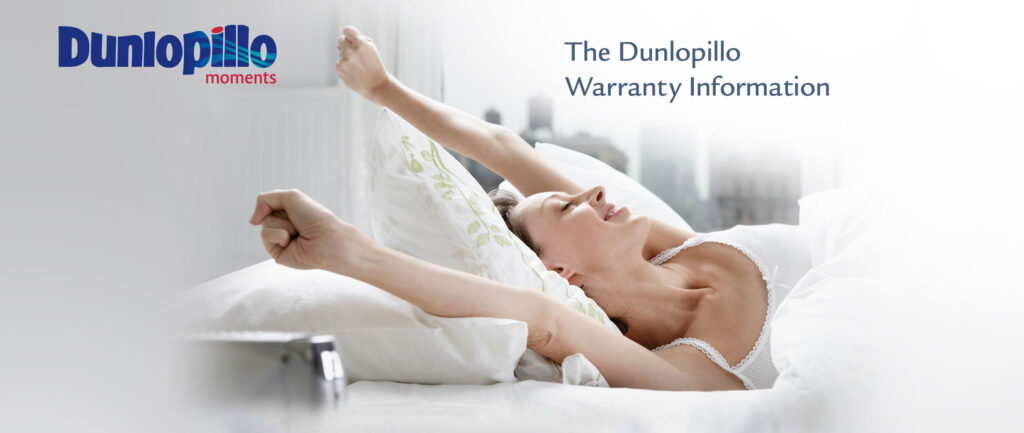 Pro-Rated Limited Warranty

The limited warranty covers only product manufacturing defects, which has been inspected and certified by DUNLOPILLO® personnel.

This local warranty is confined to the first purchaser of the product only and covers only products purchased from an authorized dealer.

Your DUNLOPILLO® mattress will be replaced, repaired or provided a pro-rated allowance, at our option, if it is defective due to faulty workmanship or materials, for respective period (refer to * above) from date of purchase, subject to the limitations described in this warranty. Dunlopillo reserves the right to substitute products and materials of equal or similar value at our available option at that point in time.

Over the period of warranty, repair or replacement of the mattress will be made as per pro-rated value below. The consumer shall bear the difference of the new mattress value and the credit value. The pro-rated value is 1/5th or 1/12th or 1/15th of the invoice price multiplied by the total number of years you have owned the bed:
5 Years
• 1 Year : 90%
• 2 Years : 70%
• 3 Years : 50%
• 4 Years : 30%
• 5 Years : 10%
• Over 5 Years: 0%
10 Years
• 1 Year : 90%
• 2 Years : 70%
• 3 Years : 50%
• 4 Years : 30%
• 5 Years : 10%
• 6 Years : 70%
• 7 Years : 50%
• 8 Years : 30%
• 9 Years : 10%
• 10 Years : 10%
• Over 10 Years: 0%
12 Years
• 1 Year : 90%
• 2 Years : 80%
• 3 Years : 70%
• 4 Years : 60%
• 5 Years : 50%
• 6 Years : 40%
• 7 Years : 30%
• 8 Years : 25%
• 9 Years : 20%
• 10 Years : 15%
• 11 Years : 10%
• 12 Years : 5%
• Over 10Years: 0%
15 Years
• 1 Year : 90%
• 2 Years : 80%
• 3 Years : 70%
• 4 Years : 60%
• 5 Years : 55%
• 6 Years : 40%
• 7 Years : 45%
• 8 Years : 40%
• 9 Years : 35%
• 10 Years : 30%
• 11 Years : 25%
• 12 Years : 20%
• 13 Years : 15%
• 14 Years : 10%
• 15 Years : 5%
• Over 15 Years: 0%
Warranty is effective whether mattress is purchased with matching foundation (eg flat based divan), or either mattress or foundation is purchased separately. However, use of an improper foundation may cause damage to the mattress and void this warranty.

Your DUNLOPILLO® mattress will be repaired or replaced at pro-rated value (transportation charges to and from nearest DUNLOPILLO® factory must be paid by the purchaser) during the lifetime of this warranty. Repair or replacement is at the option of DUNLOPILLO®. Consequential claims, no matter what kind and of what legal argument, in connection with this warranty, cannot be accepted. This warranty commences the day you take delivery of your DUNLOPILLO® mattress. However, the warranty period will not be extended or changed as a result of repair or replacement under the terms of this warranty or otherwise.

In the event you wish to make a warranty claim, first you are required to notify the retailer from whom you purchased your DUNLOPILLO® mattress. You must provide proof-of-purchase; therefore, you must retain your sales receipt and/or delivery receipt. There retailer will coordinate your claim with DUNLOPILLO®. In the event the retailer is no longer in business, or in the event you have moved a significant distance since the purchase of your mattress, write to DUNLOPILLO® at customer.service@dunlopilloworld.com for instructions on how to proceed with your warranty claim.

---
Your Dunlopillo® mattress will provide you with years of excellent service
if you follow these easy instruction care
A mattress is a big investment and rightly so as the quality of your sleep has a profound effect on the quality of your life and how well you function. Since we spend about one-third of our lives sleeping, it is worth taking a few moments to keep it functioning at its best. The following instruction care steps are made to ensure you get the best out of your DUNLOPILLO® mattress.
Support your mattress.
Ask for a suitable foundation. Do not be misled to believe that it is sufficient to buy a new mattress only after your present mattress shows wear and tear. Mattress failure or "wear out" is often caused by foundation failure.
Your mattress foundation should have a:
a. Minimum 4 legged bedframe for a Twin of Full sized mattress
b. Minimum 5 legged bedframe with center support for a Queen sized mattress
c. Minimum 6 legged bedframe with center support for a King sized mattress
d. Be no more than 8cm apart and 9cm wide for timber slatted bed frames (Slats over 14cm wide may cause mildew by not allowing moisture to evaporate sufficiently).

Ensure the room is well ventilated and dry.
We highly recommend that you protect your mattress with a high-quality absorbent mattress pad. This will keep the fabric of the mattress fresh and clean. Never apply liquids of any kind to the mattress. In high humidity areas, you should use a device to reduce the humidity levels in the bedroom. If it is absolutely necessary to clean your mattress, use a dry clean cloth to wipe off any dirt or soak up any moisture.

Flip or rotate it every 1 to 3 months.
It is recommended to rotate your mattress once a month for the first 3 months, and once every 3 months after that. Turn the foot of the mattress so it becomes the head. Next, flip it over. Rotate it the following period and flip it the period after that. If your mattress is a no flip design or one sided mattress, you won't be able to use the other side for sleeping so just keep rotating it head to foot and foot to head. The result of these mattress acrobatics is that your mattress will wear evenly, free of the sags that come from constantly sleeping in the same spot. Even doing this every six months helps.

---
Warranty Information
Definitions
I. "Warranty": the manufacturer's assurance that certain standards will be met by the performance of the mattress for a specified period of time.
II. "Limited Warranty": this indicates that the warranty provided does not extend to every possible situation. There are situations that are excluded; therefore the warranty is "limited" rather than "Unlimited". No mattress manufacturer offers an "unlimited" warranty, because there are so many situations outside of its control.
III. "Pro-Rated": if any problem occurs that is covered by the warranty during the term of the warranty, purchasers will be charged for any repair made or, if necessary, any exchange of the mattress at a specified sum.
IV. "Effective Mattress Life": the effective life of the mattress is the period in which it is able to provide proper sleep support and comfort to its user(s).

Effective Mattress Life
How long is the effective life of your mattress? Actually, no one, not even the manufacturer of your mattress knows for certain. There are many variables (not limited to those listed below):
A. The weight of the user(s).
B. How many hours per night the product is used.
C. The usages of the product other than for sleeping (reading, TV watching, etc.).
D. How often the mattress is moved from one location to another and how it is handled and stored in transit.
E. Whether the mattress is being used with the foundation made for it.
The Better Sleep Council suggests that the average effective life of a new mattress is 8-10 years. That means some mattresses have a longer period, others a shorter term. However, when the mattress is 8-10 years old, you should inspect in closely then (and from the on) for signs of wearing out. Remember, your new mattress is its most effective in its first night of service to you. Every night afterward it loses a bit of its effectiveness, very slowly and very subtly to the point that you'll realize that you're not receiving a good night's sleep from it. That's the time to replace it.

Disclaimer
This warranty is provided at the country of purchase to the original purchaser from Dunlopillo Company or its authorized dealers/retailers and valid only for residential use commencing from the original date of purchase. Contract and commercial usages are not covered by this warranty.
The manufacturer is responsible for no incidental nor consequential damages. Implied warranties are limited to the period of this warranty.
DUNLOPILLO® does not warrant that this product is suitable for any person's health or medical condition, and makes no warranty beyond what is contained in writing herein. Any adverse health reactions like suffocation from improper use of products is at the onus of the user.
Mattress foundation specifications, including appearance, may change without notice.
Claims that are not supported with a receipt and warranty card will be denied a refund, exchange or repair .
This warranty does not extend to normal body impression of 1.5 inches (3.8cm) or less. All mattress will show body impressions as the upholstery settles. This is not a structural defect covered by this limited warranty. The upholstery is intended to provide cushioning to an individual's unique contours and body impression is unavoidable. In accordance to international standards, body impressions of 1½ inches or 38 mm is considered as normal.
The body impressions are formed because of the premium quality filling layers conform to your body contour after some time. These body impressions are a normal characteristic of premium bedding and indicate the comfort level is conforming to your body. These are not considered manufacturing defects. Apart from the above, the warranty does not cover the normal wear and tear like torn of fabric at the side border or at top panel due to negligent, rough handling of the mattress or any damages caused by standing/jumping on the mattress, abuse, misuse or negligence.
The chief cause of warranty voidance is the soiling of the mattress. Blood, urine or other stains void the warranty. You are sincerely encouraged to use a quality mattress protector for better protection.
In addition to the other exclusions stated on this page, DUNLOPILLO® specifically excludes from the warranty as below;
(i) small manufacturing irregularities that do not affect the performance of the bed: Example: Length and width of mattress up to a maximum of +/- 2cm variance.
(ii) comfort issues relating to the consumers' preferences. For eg. the firmness suitability of the individual.
(iii) defects due to causes by force majeure events and or events that are beyond our control like floods, fire, acts of God.
We reserve the right, without liability, to revise this Warranty.

---
How to claim the Warranty
Drop us an email to customer.service@dunlopilloworld.com with your Order Number, Receipt Copy, Images of defects, Reason of the warranty claim.
We will review your Warranty claim request with the Production Team for approval or rejection of the claim request (case by case basis).
Upon the warranty approval, and during the warranty period, transportation costs for collection and delivering the replacement product will be borne by the customer (for mattresses RM250 within Klang Valley, RM400 in Peninsular Malaysia, RM1,000 in East Malaysia).
Transportation payment must be completed within 60 days from warranty request email. Failing to complete the payment within the given timeframe may result in the closing of your warranty case automatically.
We will arrange the transportation team to collect the defective mattress within a timely manner subjected to the delivery location.
In case an identical model or material is not available for a replacement, Dunlopillo reserves the right to substitute a comparable model or material, and any price difference shall be borne by the customer. Repaired or replaced mattresses or mattress covers are subject to the same Warranty as the original mattress, such that its warranty term begins on the delivery / collection date of the original mattress that was purchased.
---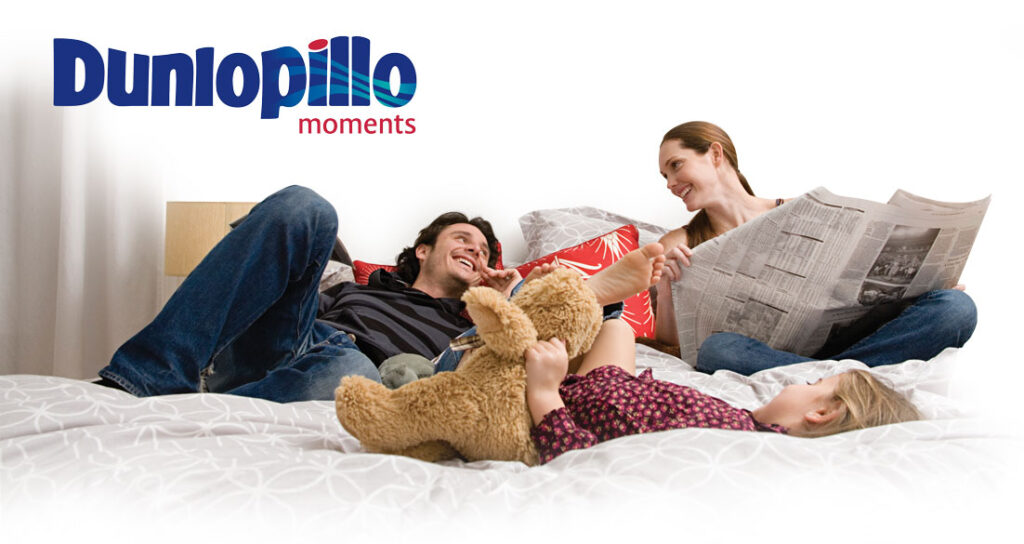 Thank you for investing in a Dunlopillo

Dunlopillo makes every effort to ensure the best workmanship and only the finest materials goes into your Dunlopillo product.
Please inspect your mattress upon delivery to ensure your product reaches you in its peak condition. Do not accept a faulty product to ensure you obtain the best experience from your Dunlopillo.
---